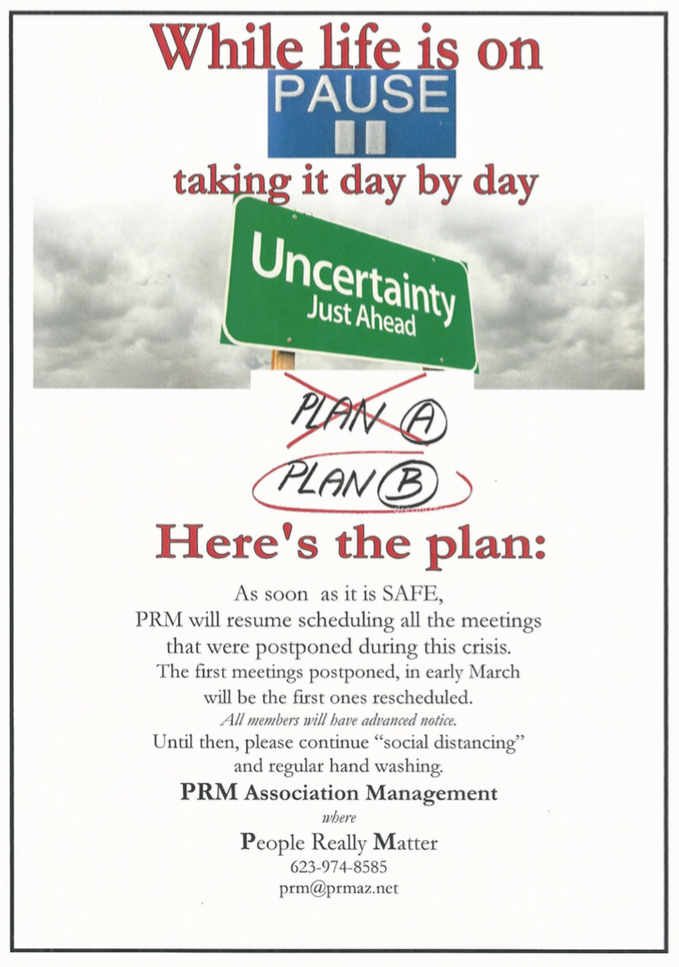 Valued Clients and Friends,
We have made some changes to our policies and protocols due to the effects of the Coronavirus on the way the world does business. 
As we all know by now, this virus is a potential threat to small businesses of all sizes, local, and international businesses. We have taken some drastic measures in order to protect the safety of our clients and the safety of our office staff.

One of the biggest changes we are attempting to effect is to dissuade homeowners from coming to the office to make payments, or drop off documents or to have office appointments with members of staff.

At PRM we pride ourselves on our personal approach to homeowner's association and condominium management. As you may have already experienced, we are very Hands-On and enjoy the relationships that we have established over the years with our clients.

Now we find ourselves having to operate under an entirely different paradigm, therefore in order to make this transition easier for our friends and clients, we have instituted the following emergency measures:

Cash Payments: Homeowners may no longer bring cash payments to the office.
Money Orders: Money orders may be mailed in place of cash payments for those who do not have bank accounts or access to bank accounts. Our mailing address is P.O. Box 5878, Peoria, AZ 85385.
Auto Debit Program: We offer automatic debit which is initiated in our office. After you enroll in our auto debit program, your account can be debited at the proper frequency for your homeowner's association — at no cost to yourself or our association client. The name of our auto debit program is called SurePay. If you are interested in signing up for SurePay, please download a pdf copy here, complete the form to the best of your ability and send it back to us. Our staff will be happy to assist you with finalizing your enrollment.
Online Credit or Debit Card Payments: We now offer one of the safest ways to pay online from your desktop or laptop computer as well as your mobile phone. If you prefer this method, be sure to include your association's name and a flat 4% service fee to cover the cost of a fast and safe credit card transaction with one of the world's leading secure online payment companies. Visit our Online Payment Gateway to easily pay online 24 hours a day, 7 days a week. We also now accept PayPal.
Association Meetings: Watch for updates. All homeowner's association meetings have been canceled through the month of March 2020 you will be updated via email regarding the April meeting schedule.
Vendors and Tradespeople: We're here to support you. We would appreciate your cooperation in not coming to the office to pick up your monthly checks. All checks will be mailed promptly. If you would like to make other arrangements, please call the office for details.
Business Hours: No change. We will maintain normal business hours of Monday through Friday 8:30 until 4:30.

We appreciate your patience and consideration through these difficult times. Please understand that these decisions were not easy to make but in light of the world pandemic we feel we had no choice but to protect our clients, staff and vendors/tradespeople to the best of our ability.

Please check our website towards the end of March to see the April schedule. As always, it's a pleasure to be of service. We will resume normal business operations as soon as everything is safe. Thank you again. Stay well.

Paul and Susan Rubin, and the entire PRM Staff